Get FREE  5 Years UPSC PRELIMS QUESTION PAPERS With Answer Key on Order Above 999 rs .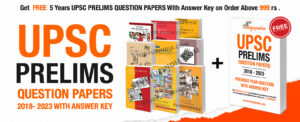 In addition to the exceptional value provided by the NCERT books combo, we are also offering a special bonus. You will receive free UPSC previous year question papers for the last 5 years. These question papers are an invaluable resource for aspirants preparing for the highly competitive UPSC exams.
All books are 100℅ original on Studyupindia.com ( Online Book Store ) as per the latest NCERT syllabus.
This NCERT UPSC Combo Books Set Contains 37 Books ( English Medium )  :
As Studyupindia provides products with quick delivery, easy exchanges from trusted sellers .
Return Policy:
Any item ordered from studyupindia.com cannot be returned. Any item ordered from studyupindia.com cannot be returned. Books can be exchanged only when books are damaged or any misprinting in the book . we will replace the item at no extra cost, provided that the request for replacement / return of item is made within the stipulated time-frame as given below.
Please don't accept any Open/Torned package at the time of Delivery. You can raise the query regarding the package at Whatsapp number +91 9868505044 or Drop a Mail at studyupindia1@gmail.com .
To get a replacement, email us your Order Number and the Reason for returning at studyupindia1@gmail.com . Only after receiving our confirmation for the return, you are requested to send the item back to us. We will then arrange for the replacement of the item through our logistics partner. We shall not be responsible for any items sent to us for return / replacement without our confirmation.